A pocos días de que se lleve a cabo la entrega de los Premios Oscar, La Academia podría haber revelado por error la lista de ganadores del domingo próximo.
Luego de pedirle a sus seguidores de Twitter que realizarán sus predicciones sobre la edición 92 de la preciada estatuilla, la cuenta oficial dio a conocer una lista que más tarde fue borrada, desatando rumores sobre una posible filtración.
We invited fans on Twitter to make and share your #Oscars predictions.

A ton of you already have! 😀

A brief issue on Twitter made some of yours look like they came from our account.😳

They didn't. This error is now resolved.

And we'll reveal our picks on Sunday.

— The Academy (@TheAcademy) February 4, 2020
Se cree que La Academia de Artes y Ciencias Cinematográficas de Hollywood compartió dicha lista como un ejemplo, sin embargo ha trascendido como la lista real de ganadores.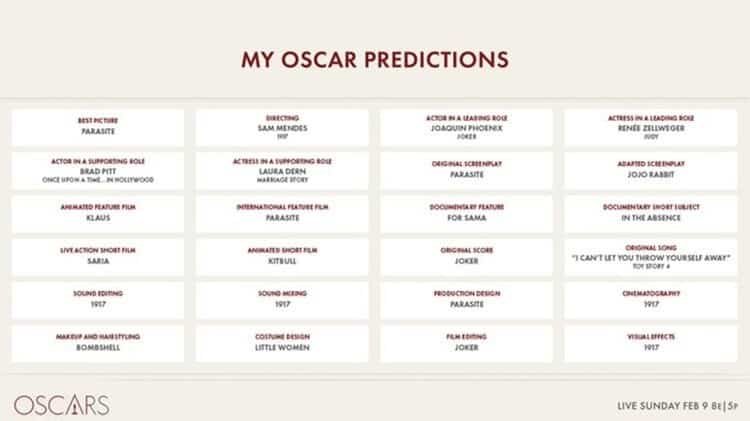 En ella se señala a Joaquin Phoenix como ganador a Mejor Actor por Joker, a Brad Pitt por Mejor Actor de Reparto por Once Upon a Time in Hollywood de Quentin Tarantino, Renée Zellweger sería la acreedora al premio a Mejor Actriz Principal, entre otras.
Cabe destacar que las votaciones se cerraron la noche del 4 de febrero, en las que Joker encabeza la lista con 11 candidaturas, y 1917, Once Upon a Time in Hollywood y The Irishman, con 10 cada una.