Hace unas semanas, cuando se anunciaron las nominaciones a los Globos de Oro 2020, algo muy específico causó expectativa entre los medios de comunicación y el público: ¡el reencuentro entre Brad Pitt y Jennifer Aniston!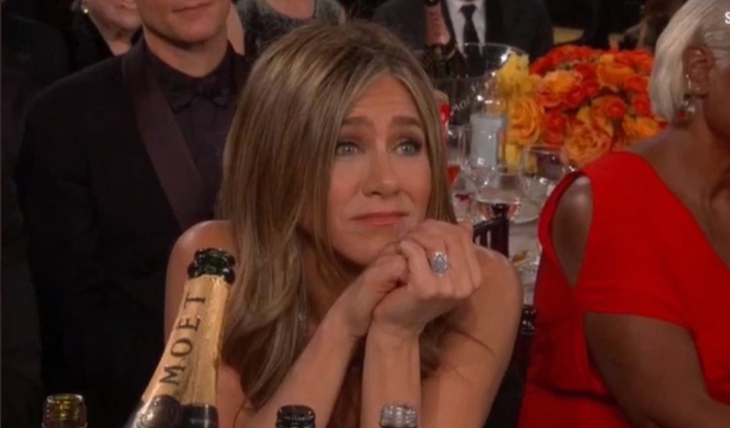 Ambos actores eran candidatos para estos premios, Aniston, como Mejor actriz de serie de televisión, por su papel en The Morning Show, y Pitt, como Mejor actor de reparto en Once Upon a Time in Hollywood, por lo que encontrarse frente a frente en el hotel Beverly Hilton en California, era un hecho casi inminente.
Y aunque ni la alfombra roja ni la gala del evento los juntaron, las cámaras de televisión lograron captar un mágico momento, cuando Brad subió al escenario a recibir su Globo de Oro. Los ojos se posaron en Jennifer, quien con cara emocionada, no solo veía a su ex, sino que escuchaba con mucha atención su discurso de agradecimiento.
En este, el también exesposo de Angelina Jolie, bromeó sobre su vida romántica: "Quería traer a mi madre, pero no pude, porque con cualquiera que esté parado a mi lado dicen que estoy saliendo y eso sería incómodo", provocando la risa de los presentes.
This one's for Rick Dalton. Brad Pitt wins Best Supporting Actor, Motion Picture at The #GoldenGlobes. pic.twitter.com/0QK3TfomI1

— NBC Entertainment (@nbc) January 6, 2020
Minutos antes, a su paso por la alfombra roja, el cotizado galán respondió a la prensa, cuando le preguntaron sobre este posible reencuentro con quien fuera su esposa del 2000 al 2005: "Claro que me cruzaré con Jen, es una buena amiga. Dicen que es su segunda reunión más importante del año, lo comprendo; la primera fue la de Friends", expresó divertido.
Cabe señalar que el hecho de que ambos ahora se encuentren solteros y sin compromisos, así como el que se sabe que llevan una relación amistosa bastante cordial, que incluye alguna que otra llamada telefónica, o que él acudiera a la celebración anual de poda de árboles que ella realiza, o incluso, que el protagonista de Ad Astra acudiera a la fiesta de cumpleaños de la actriz de Friends, crea una romántica ilusión entre sus admiradores, de que quizá, podrían volver a estar juntos como pareja.